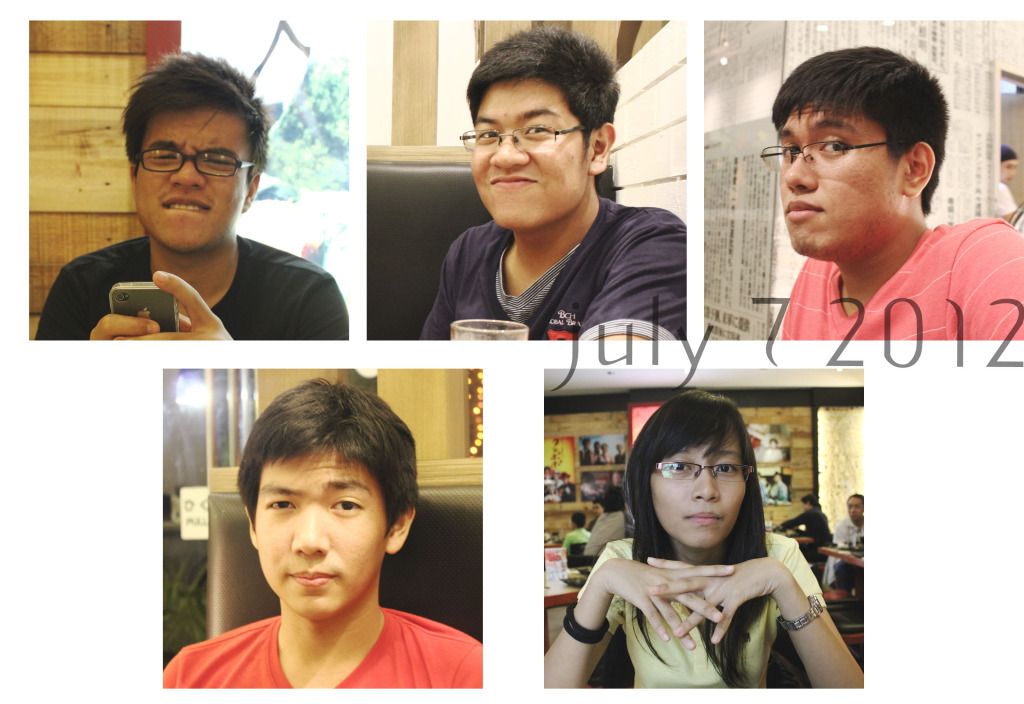 What went earlier today in my blog is the most stupid thing I've ever done. It's that I accidentally deleted my entry about Sumo Sam! Nevertheless, it isn't the end of the world. Hahaha. Anyhoo, to give you a quick run through of our recent dining experience at
Sumo Sam Greenbelt 3
, pictures would do the largest part of the talking, as usual. But for a little intro, we went there after watching Abraham Lincoln: Vampire Hunter at TriNoma. Talk about major mall hopping! Enchees was initially with us but she had to go home after the movie. So, a
bout the movie, I say our pockets weren't "robbed" and there were parts that made me recount of the American history (aka Emancipation Proclamation).
Echusera
, feeling smart? Haha!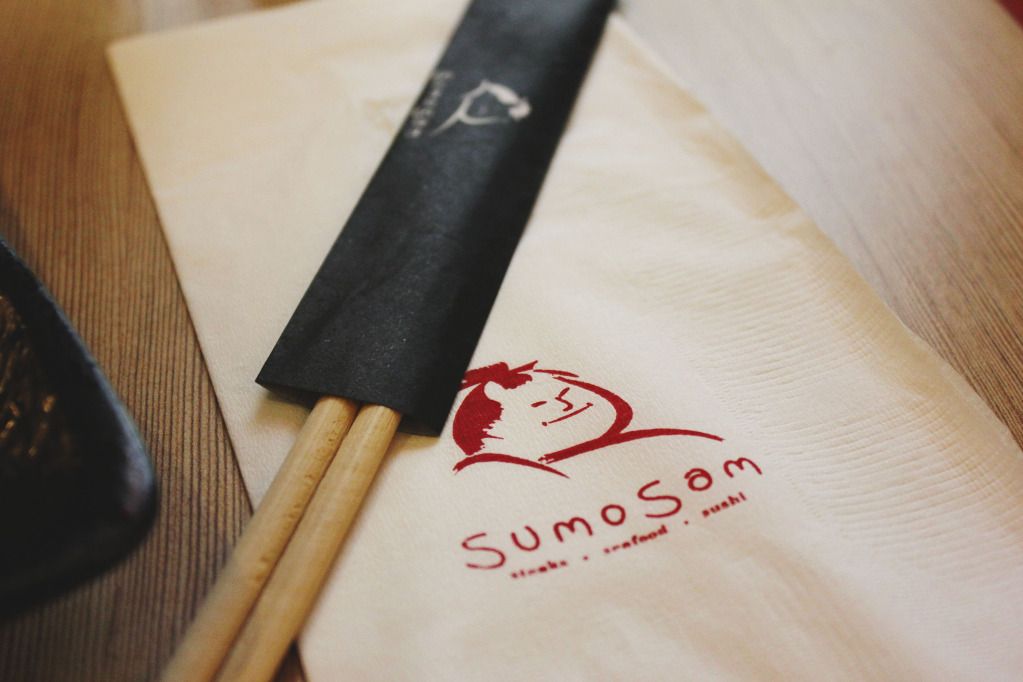 So yeah, some more talking and photos after the cut! :)
Sumo Sam Greenbelt 3's branch layout isn't so much different from their branch in TriNoma... somewhat dimmed lights and nicely aligned chair setting with the Japanese feel. Starting from the severs, they were friendly right from the time that we were just checking out their menu from outside but what attracted my attention is how revealing that waitress was wearing. I mean short skirt and boots... it's just that I thought it wasn't the right attire for the restaurant. First world problem.
MOVING ON, as our main concern was food when we went there, it was literally very filling for all of us. Not to mention that with the combination of our dessert, which you'll see later, most of us ended up feeling drowsy. W
hat's new for me, though, was the Spicy Tuna Salad! For a spicy food fanatic like me, I liked it. I wanted more, period.
Without further ado...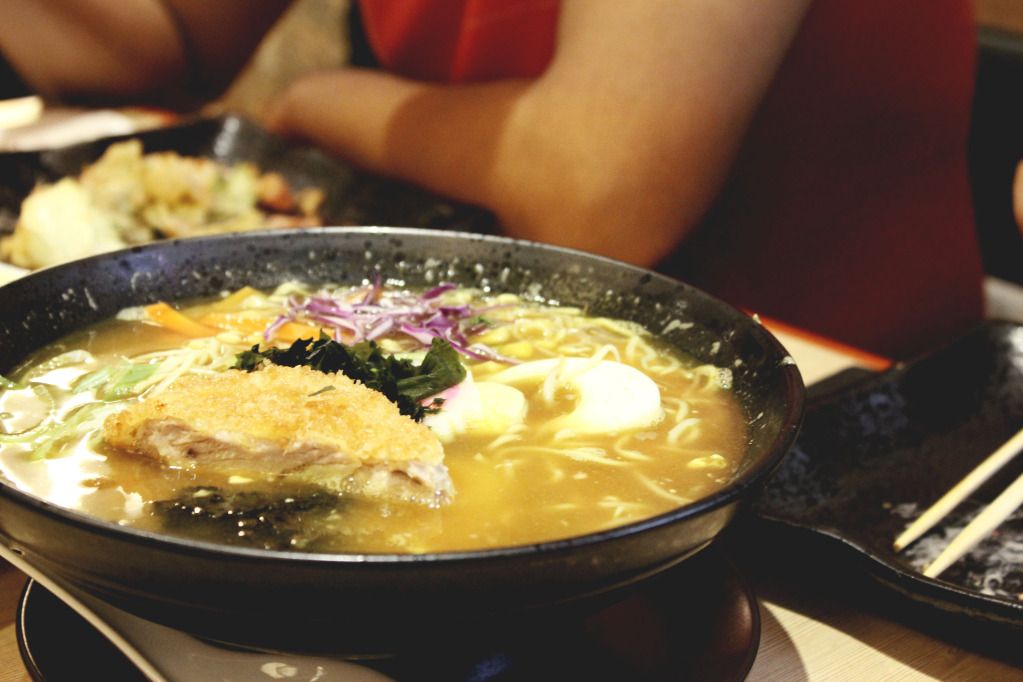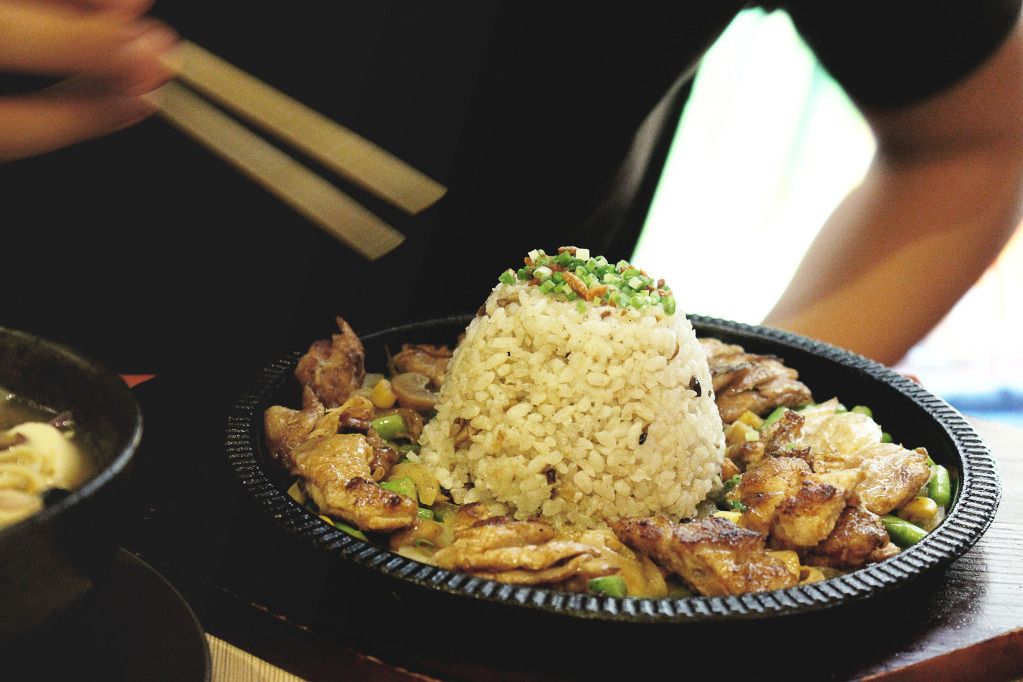 Sizzling Chicken
Steamed gyoza.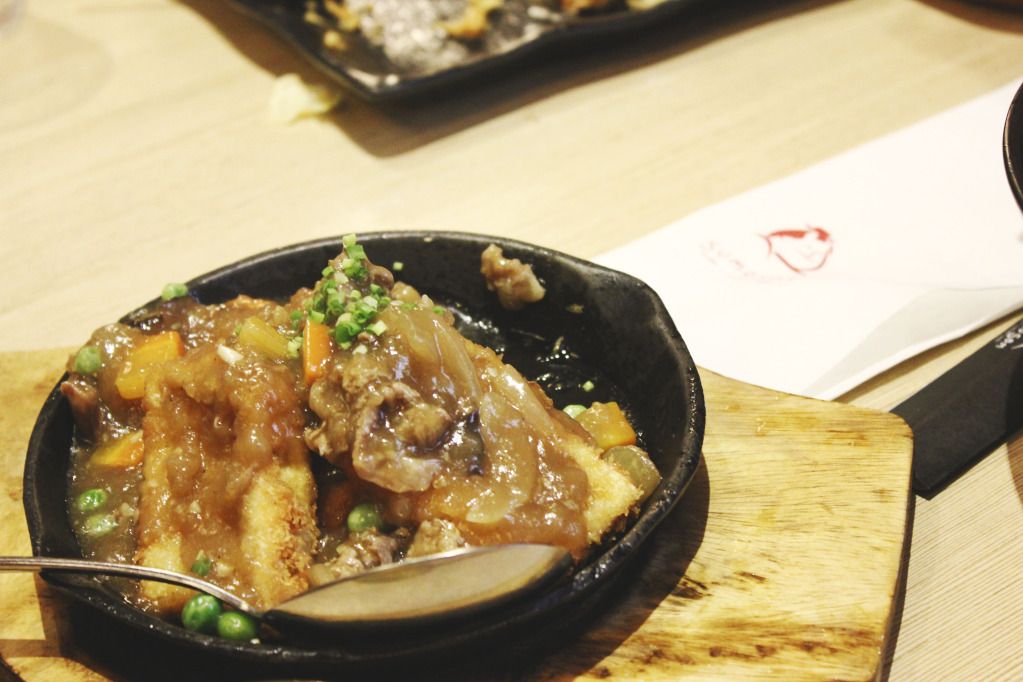 Tofu Chop-chop wasn't so bad itself!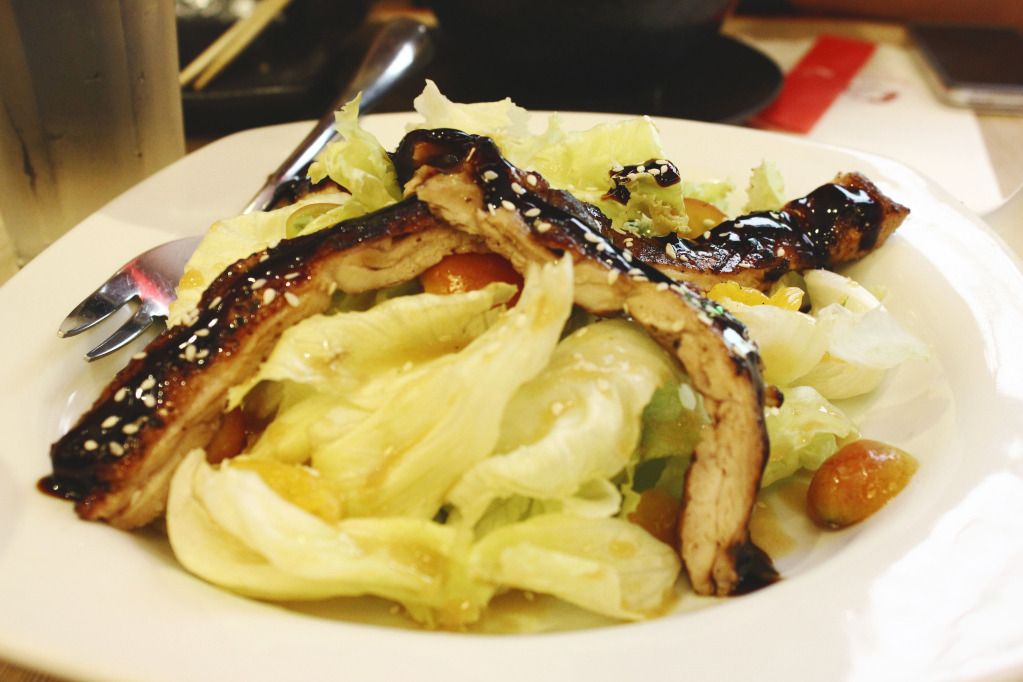 My food that night was a Chicken Teriyaki Salad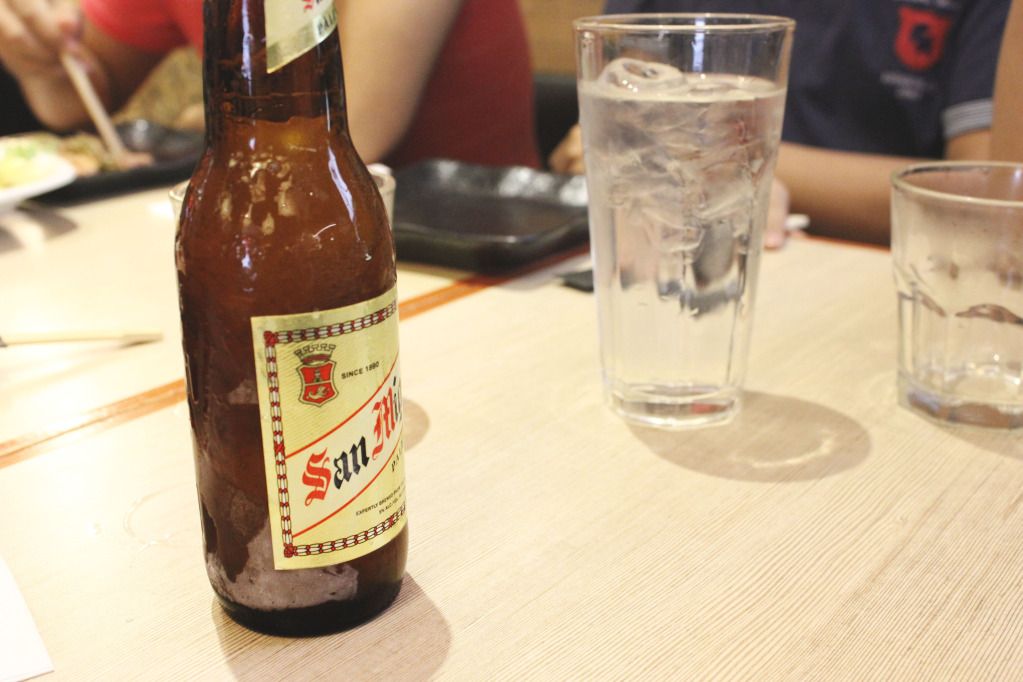 Dahil di maaga kaming umuuwi that night, ito na lang daw. Chos lang. Haha.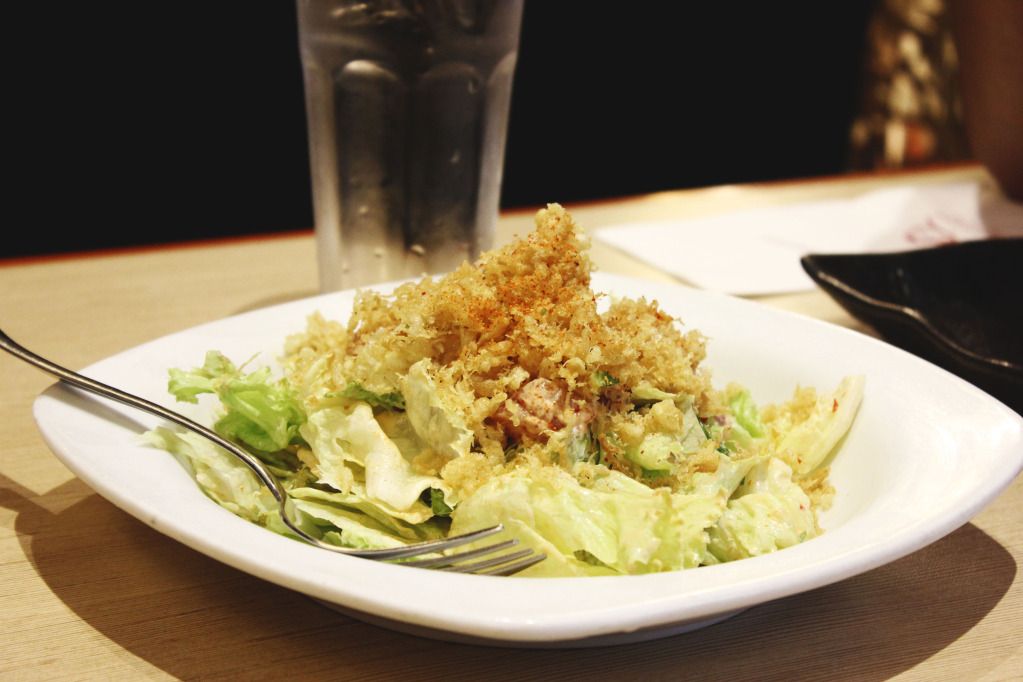 Spicy Tuna Salad. THE BEST SALAD I'VE EVER TRIED.
Probably one of the most interesting restaurants I've seen on the internet is the recently opened Umami. The name has the not-so-common vibe when I first saw it while passing by C5 on my way home. Upon further research with friend Wikipedia, umami is a Japanese word meaning "pleasant savory taste". Basically, their specialty is their varied kinds of burger steaks. We didn't get to spend a long time there since we still planned to go to Eastwood (our 5th stop that night, btw) so because of utmost curiosity or whatever you call it, we just ate a slice of this heavenly Nutella crepe cake something. By partners ang peg namin while eating the cake but still it left me speechless, like the angels started to sing "Ave Maria". (Ok, corny na) It gave us 39 faces more of crepe layers. And, finally, thank you to Dale for the cake!
Finally, to all Japanese food enthusiasts out there, I recommend to try eating out here though it may be too heavy for the pocket. Well, from my point of view being a student. I'll definitely go back here, though!
Sumo Sam
2/F Greenbelt 3, Ayala Center
Makati City
Umami Ramen Bar and Restaurant
The Grove by Rockwell
C-5 / Ugong
Pasig City